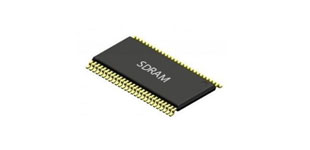 SDRAM has gone through five generations since its development. They are: the first generation of SDR SDRAM, the second generation of DDR SDRAM, the third generation of DDR2 SDRAM, the fourth generation of DDR3 SDRAM, the fifth generation, and DDR4 SDRAM. The second, third, and fourth-generation DDR (Double Data Rate) memories use data read and write rates as the naming standard, and they are preceded by a symbol representing their DDR algebra, PC-that is, DDR, PC2 = DDR2, PC3 = DDR3. If PC2700 is DDR333, its operating frequency is 333/2 = 166MHz, and 2700 means that the bandwidth is 2.7G. DDR read and write frequencies from DDR200 to DDR400, DDR2 from DDR2-400 to DDR2-800, and DDR3 from DDR3-800 to DDR3-1600.

JSC Jeju Semiconductor is committed to the field of PSRAM chips and has become one of the global semiconductor PSRAM memory chip solution providers.
Since Jeju Semiconductor debuted in the 2001 market of SRAM (static random access memory) and 4M SRAM, Jeju Semiconductor continued to implement a full range of low-power SRAM products through 1M, 2M, 4M to 8M SRAM, and also includes 8M to 64M PSRAM memory chips Products, product lines are mainly composed of SRAM chips, PSRAM chips, NAND FLASH.
| Capacity | Organization | Part Number | Voltage | Frequency | Temperature | Package | Download |
| --- | --- | --- | --- | --- | --- | --- | --- |
| 4Gb | 512M x 8 | JSR364G088NHW-12 | DDR3 (1.5V) | DDR3-1600 (11-11-11) | Commercial/Industrial | 78FBGA | NULL |
| 4Gb | 512M x 8 | JSR364G088NHW-12 | DDR3 (1.5V) | DDR3-1866 (13-13-13) | Commercial/Industrial | 78FBGA | NULL |
| 4Gb | 256M x 16 | JSR364G168NHR-12 | DDR3 (1.5V) | DDR3-1600 (11-11-11) | Commercial/Industrial | 96FBGA | NULL |
| 4Gb | 256M x 16 | JSR364G168NHR-10 | DDR3 (1.5V) | DDR3-1866 (13-13-13) | Commercial/Industrial | 96FBGA | NULL |
| 4Gb | 512M x 8 | JSR364G088MHW-12 | DDR3L (1.35V) | DDR3-1600 (11-11-11) | Commercial/Industrial | 78FBGA | NULL |
| 4Gb | 512M x 8 | JSR364G088MHW-10 | DDR3L (1.35V) | DDR3-1866 (13-13-13) | Commercial/Industrial | 78FBGA | NULL |
| 4Gb | 256M x 16 | JSR364G168MHR-12 | DDR3L (1.35V) | DDR3-1600 (11-11-11) | Commercial/Industrial | 96FBGA | NULL |
| 4Gb | 256M x 16 | JSR364G168MHR-10 | DDR3L (1.35V) | DDR3-1866 (13-13-13) | Commercial/Industrial | 96FBGA | NULL |
| 2Gb | 256M x 8 | JSR362G088NH-12 | DDR3 (1.5V) | DDR3-1600 (11-11-11) | Commercial/Industrial | 78FBGA | NULL |
| 2Gb | 256M x 8 | JSR362G088NHW-10 | DDR3 (1.5V) | DDR3-1866 (13-13-13) | Commercial/Industrial | 78FBGA | NULL |
| 2Gb | 128M x 16 | JSR362G168NHR-12 | DDR3 (1.5V) | DDR3-1600 (11-11-11) | Commercial/Industrial | 96FBGA | NULL |
| 2Gb | 128M x 16 | JSR362G168NHR-10 | DDR3 (1.5V) | DDR3-1866 (13-13-13) | Commercial/Industrial | 96FBGA | NULL |
| 2Gb | 256M x 8 | JSR362G088MHW-12 | DDR3L(1.35V) | DDR3-1600 (11-11-11) | Commercial/Industrial | 78FBGA | NULL |
| 2Gb | 256M x 8 | JSR362G088MHW-10 | DDR3L(1.35V) | DDR3-1866 (13-13-13) | Commercial/Industrial | 78FBGA | NULL |
| 2Gb | 128M x 16 | JSR362G168MHR-12 | DDR3L(1.35V) | DDR3-1600 (11-11-11) | Commercial/Industrial | 96FBGA | NULL |
| 2Gb | 128M x 16 | JSR362G168MHR-10 | DDR3L(1.35V) | DDR3-1866 (13-13-13) | Commercial/Industrial | 96FBGA | NULL |