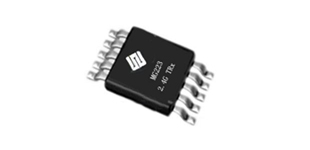 Bluetooth Low Energy Chip (BLE): refers to a module that supports Bluetooth protocol 4.0 or higher, also known as (Bluetooth Low Energy Module) BLE Bluetooth chip. The biggest advantage of this BLE Bluetooth chip is the success rate and power consumption of the connection The j is reduced, and the Bluetooth low energy technology uses a variable connection time interval, which can be set from a few milliseconds to a few seconds depending on the specific application.
Shanghai Macrogiga Electronics Co.,Ltd. was co-founded by China's first-class IC design experts. Shanghai Giant Micro Integrated Circuit Co., Ltd. follows the trend of wireless Internet and invests in the upcoming development of the Internet of Things industry, focusing on BLE Bluetooth chips and related system design. , Provide the most cost-effective wireless sensor chips and solutions, and become the main supplier of wireless sensor nodes. Its core technical capabilities cover the design of radio frequency, simulation, SOC and system software.
Giant Micro's BLE-Beacon dedicated chip is a unique dedicated functional chip in the industry, with the smallest package, the fewest peripheral circuits, and the easiest and most flexible system application.
| Part Number | VDD(v) | MCU Core | ROM | RAM | IO | ADC | UART | I2C | PWM | Timer | Package | Download |
| --- | --- | --- | --- | --- | --- | --- | --- | --- | --- | --- | --- | --- |
| MG127 | 1.9 ~ 3.6 | ASIC | - | - | - | - | - | - | - | - | DFN10 | NULL |
| MG123 | 1.9 ~ 3.6 | ASIC | - | - | - | - | - | - | - | - | MSOP10 | NULL |
| MG126 | 1.9 ~ 3.6 | ASIC | - | - | - | - | - | - | - | - | QFN16 | NULL |
| MS1581 | 1.9 ~ 3.6 | 8bit | OTP 2KW | 128B | 9 | - | - | - | 5 | 3 | SOP16 | NULL |
| MS1797 | 2.0 ~ 3.6 | 32bit | Flash 128KB | 8KB | 21 | 7x12bit | 2 | 1 | 6 | 7 | QFN32 | NULL |
| MS1586 | 1.9 ~ 3.6 | 8bit | OTP 4KW | 256B | 9 | 7X12bit | - | - | 5 | 3 | SOP16 | NULL |
| MS1656 | 2.4 ~ 3.6 | CM0+ | Flash 64KB | 4B | 11 | 4chX12bit | 1 | 1 | 7 | 7 | QFN20 | NULL |
| MS1793S | 2.0 ~ 3.6 | 32bit | Flash 32KB | 4KB | 11 | 9x12bit | 1 | 1 | 5 | 7 | TSSOP24 | NULL |
| MS1793 | 2.0 ~ 3.6 | 32bit | Flash 128KB | 8KB | 12 | 6x12bit | 1 | 1 | 5 | 7 | QFN32 | NULL |
| MS1791 | 2.0 ~ 3.6 | CM0 | Flash 128KB | 8B | 21 | 9chx12bit | 2 | 1 | 7 | 7 | QFN32 | NULL |
| MS1892 | 2.0 ~ 3.6 | CM3 | Flash 512KB | 128B | 29 | 9chx12bit | 3 | 1 | 16 | 11 | QFN40 | NULL |
| MG333 | 1.9 ~ 3.6 | / | / | / | / | / | / | / | / | / | MSOP-10 | NULL |
| MG337 | / | / | / | / | / | / | / | / | / | / | / | NULL |
| MG1751 | / | / | 31.5KBMTP | 6B | / | LVD | / | / | 5 | 2 | QFN24 | NULL |
| MG1596 | / | / | / | / | / | / | / | / | / | / | QFN40-5x5 | NULL |