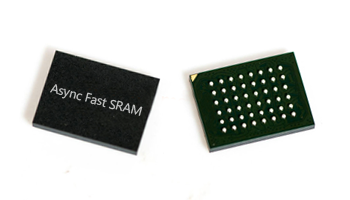 Static random-access memory (static RAM or SRAM) is a type of semiconductor memory that uses bistable latching circuitry (flip-flop) to store each bit. SRAM exhibits data remanence,but it is still volatile in the conventional sense that data is eventually lost when the memory is not powered.The term static differentiates SRAM from DRAM (dynamic random-access memory) which must be periodically refreshed.

NetSol Co., Ltd., an acronym for Network Solution, is a fabless memory design house founded by an experienced world best memory team. NetSol's initial focus will be on high-speed, high-reliability and low latency memory products for the network markets; including wired and wireless LAN switches, routers, interfaces and so on. NetSol is funded by a global leading industry partner and leading venture capital investors.
NetSol's promise to its customers is to provide memory solution needing low-latency, high-speed, wide I/Os with longevity and reliability. The synchronous SRAMs and the high-speed SRAMs would be the first product group with all solutions available within a couple of years.
| Density | org. | Part Number | Vdd(V) | Access time | Package | Download |
| --- | --- | --- | --- | --- | --- | --- |
| 32Mbit | 2Mx16 | S6R3216W1M | 1.65~3.6 | 8/10/12/15ns | 48FBGA | NULL |
| 32Mbit | 4Mx8 | S6R3208W1M | 1.65~3.6 | 8/10/12/15ns | 48FBGA | NULL |
| 16Mbit | 1Mx16 | S6R1616W1M | 1.65~3.6 | 8/10/12/15ns | 48TSOP1 48FBGA | NULL |
| 16Mbit | 1Mx16 | S6R1616V1M | 3.3 | 8/10ns | 48TSOP1 48FBGA | NULL |
| 16Mbit | 1Mx16 | S6R1616C1M | 5.0 | 10ns | 48TSOP1 48FBGA | NULL |
| 16Mbit | 2Mx8 | S6R1608C1M | 5.0 | 10ns | 44TSOP2 48FBGA | NULL |
| 16Mb | 2Mx8 | S6R1608V1M | 3.3V | 8/10ns | 44TSOP2 48FBGA | NULL |
| 16Mb | 2Mx8 | S6R1608W1M | 1.65~3.6V | 8/10/12/15ns | 44TSOP2 48FBGA | NULL |
| 8Mbit | 512Kx16 | S6R8016W1A | 1.65~3.6 | 8/10/12/15ns | 44TSOP2 48FBGA | NULL |
| 8Mbit | 512Kx16 | S6R8016C1A | 5.0 | 10ns | 44TSOP2 48FBGA | NULL |
| 8Mbit | 1Mx8 | S6R8008W1A | 1.65~3.6 | 8/10/12/15ns | 44TSOP2 48FBGA | NULL |
| 8Mbit | 1Mx8 | S6R8008C1A | 5.0 | 10ns | 44TSOP2 48FBGA | NULL |
| 4Mb | 512Kx8 | S6R4008V1A | 3.3V | 8/10ns | 44TSOP2 36FBGA | NULL |
| 4Mbit | 256Kx16 | S6R4016V1A | 3.3 | 8/10ns | 44TSOP2 48FBGA | NULL |
| 4Mbit | 256Kx16 | S6R4016W1A | 1.65~3.6 | 8/10/12/15ns | 44TSOP2 48FBGA | NULL |
| 4Mbit | 256Kx16 | S6R4016C1A | 5.0 | 10ns | 44TSOP2 48FBGA | NULL |
| 4Mbit | 256Kx16 | S6R4016C1A | 5.0 | 10ns | 44TSOP2 48FBGA | NULL |
| 4Mbit | 512Kx8 | S6R4008W1A | 1.65~3.6 | 8/10/12/15ns | 44TSOP2 36FBGA | NULL |
| 4Mbit | 512Kx8 | S6R4008W1A | 1.65~3.6 | 8/10/12/15ns | 44TSOP2 36FBGA | NULL |
| 4Mbit | 512Kx8 | S6R4008C1A | 5.0 | 10ns | 44TSOP2 36FBGA | NULL |
| 2Mbit | 128Kx16 | S6R2016W1A | 1.65~3.6 | 8/10/12/15ns | 44TSOP2 48FBGA | NULL |
| 2Mbit | 128Kx16 | S6R2016V1A | 1.65~3.6 | 8/10/12/15ns | 44TSOP2 48FBGA | NULL |
| 2Mbit | 128Kx16 | S6R2016V1A | 3.3 | 8/10ns | 44TSOP2 48FBGA | NULL |
| 2Mbit | 128Kx16 | S6R2016C1A | 5.0 | 10ns | 44TSOP2 48FBGA | NULL |
| 2Mbit | 256Kx8 | S6R2008W1A | 1.65~3.6 | 8/10/12/15ns | 44TSOP2 36FBGA | NULL |
| 2Mbit | 256Kx8 | S6R2008V1A | 3.3 | 8/10ns | 44TSOP2 36FBGA | NULL |
| 2Mbit | 256Kx8 | S6R2008V1A | 3.3 | 8/10ns | 44TSOP2 36FBGA | NULL |
| 2Mb | 256Kx8 | S6R2008C1A | 5V | 10ns | 44TSOP2 36FBGA | NULL |
| 1Mbit | 64Kx16 | S6R1016W1A | 1.65~3.6 | 8/10/12/15ns | 44TSOP2 48FBGA | NULL |
| 1Mbit | 64Kx16 | S6R1016V1A | 3.3 | 8/10ns | 44TSOP2 48FBGA | NULL |
| 1Mbit | 64Kx16 | S6R1016C1A | 5.0 | 10ns | 44TSOP2 48FBGA | NULL |
| 1Mbit | 128Kx8 | S6R1008W1A | 1.65~3.6 | 8/10/12/15ns | 32sTSOP1 36FBGA | NULL |
| 1Mbit | 128Kx8 | S6R1008V1A | 3.3 | 8/10ns | 32sTSOP1 36FBGA | NULL |
| 1Mbit | 128Kx8 | S6R1008C1A | 5.0 | 10ns | 32sTSOP1 36FBGA | NULL |